CB
KS Bluestem Cimarron B is a 15.3 2009 Morgan gelding owned by Julie Dennis.  He has extensive show experience in eventing, hunter/jumper and dressage, with multiple national year end awards including USEF Regional Horse of the Year, USDF Reserve Morgan Horse of the Year for First Level and American Morgan Horse Association Championships.  He has his AMHA bronze medals in Eventing and Dressage, multiple top ten AMHA Star Awards and World Titles.  In 2021 he was campaigned in dressage by Lauren at First Level.  He qualified for the USDF Regional Championships and was ranked at First Level for Horse of the Year.  Lauren and CB attended Morgan Grand Nationals in four different disciplines and walked away with the 2021 English Trail World Champion and the 2021 Working Hunter Reserve High Point World Champion, as well as multiple Grand National Champion, Reserve Champion and top placings.
Although a LAR program horse, due to his showing schedule he is currently only being ridden by one student who intends to campaign him in Beginner Novice towards an American Eventing Championship qualification.
Pirate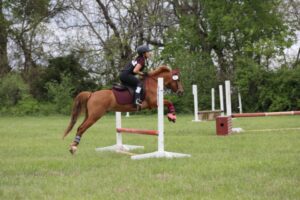 Pirate is a 2013 12.2 Welsh pony gelding who is fancy and he knows it!  He is a patient boy for his little kids and a steady ride, allowing littles to learn the basics.  However, once his older kids are balanced and show competency, he expects more from his rider.  He is a fancy mover, phenomenal jumper and bold cross country, helping students get a taste for eventing.  He has competed and placed in multiple USEA horse trials with students and is a staple of the lesson program.
Irish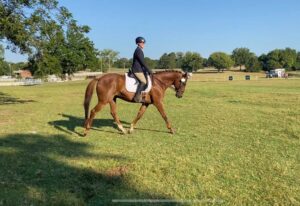 Irish is a 16.2 2009 off-the-track Thoroughbred gelding who has been with LAR since 2018.  Before coming to LAR he was primarily in the hunter ring but has extended into eventing and dressage over the past few years.  He has shown and won in both USEA and rated USDF shows, helping his students get a feel for the lower levels of the sports.  He is a steady guy who is used for confident beginners and up.  He competed at the 2021 USDF Regional IV Championships in the Dressage Seat Equitation and Training Level with one of his regular riders.
Rosie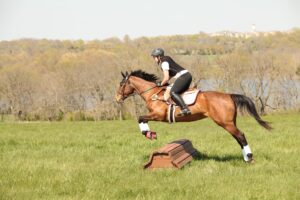 Rosie is our eldest lesson horse, but don't tell her that!  She is an Appendix Quarter Horse who is as versatile as they come.  She goes both Western and English, although she prefers English.  She will take the smallest rider around for their first trot or challenge her adult amateur rider to be precise and accurate in both dressage and jumping.
Prior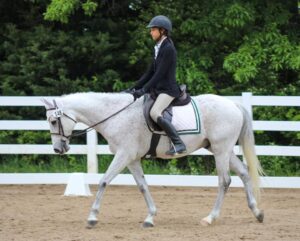 Prior is a 2014 part-bred Caspian pony, classified as a large pony.  He is one of our greener lesson horses but has taken to the program well.  He has a super steady trot and will trot along all day if asked.  He has a cute jump and over the last season has gone to multiple schoolings and his first USEA horse trial with a junior rider student.  He is used for (shorter) beginners and up!
Mikey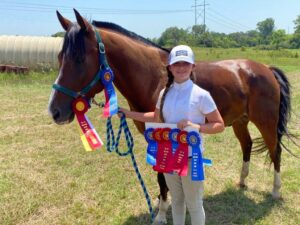 Mikey is a 2008 Quarter Horse gelding who started his life as a western horse but now prefers his dressage work and jump sessions.  He is a bit of a drama queen but has a huge puppy dog personality.  Mikey worries when his rider is off balance so isn't the best to learn how to trot, as he stops if he thinks his rider is struggling.  However once you are able to establish a rhythm he's a great teacher, as he listens to exactly what your body is telling him, even if you don't realize it! He has done many schooling dressage, jumping and eventing competitions.
Cash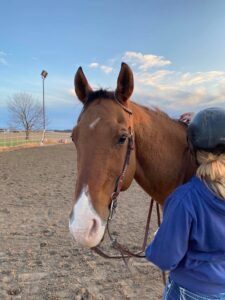 Cash is a dun Quarter Horse who is our go to for western lessons!  He is owned by one of our boarders who lets LAR use him in our program to keep him in shape while helping LAR students learn basics of western riding and dressage.  He is used for beginners and up in Western, Dressage and flat work, just not jumping! He has started showing in Dressage and over poles with one of our students and won his second time out!
Lucy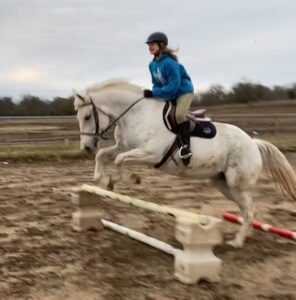 Lucy is a grade mare, we believe a Connemara cross.  She is a super level headed gal with a to die for floaty trot!  Once you trot on her, you're spoiled and think everyone else is bouncy.  She will trot all day and is great for learning rhythm and balance on.  She has a powerful jump and is steady in the dressage ring, but does require her rider to put in at least 50% when guiding around a jump course or she'll opt to not put in the effort either.  In 2020, Lucy had to have one of her eyes removed but it didn't phase her one bit!  She still is steady as can be and jumps exactly as she did before. She had her first foal in May 2021 but is now weaned and back in the lesson program.
Primadonna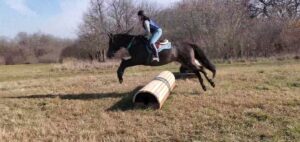 Primadonna, "Prima" for short, is a 16.1 Trakehner mare owned by one of our boarders who is used in our lesson program.  She came from South Carolina where she competed in Hunters at the 3'3" level.  Since coming to Kansas, she has had it fairly easy, brushing up on her dressage with plans of breeding.  She did not catch during the 2021 season, so it was decided she would enter the lesson program to keep her in shape and help others learn from this fun, forward mare!
Leasing
We offer three levels of leasing on the above horses.  Level 1, one day/week lease with showing rights, Level 2, two day/week lease with showing rights and one lesson per month, Level 3, three day/week lease with showing rights and two lessons per month.  Pricing is the same per month and there are NO extra costs, unless you want to spoil your horse!
Level 1 - $100/month
Level 2 - $250/month
Level 3 - $350/month
If interested in leasing, please contact for more information.