Kahleesi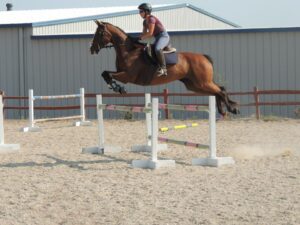 Kahleesi is a 2002 imported Dutch Warmblood mare by Andiamo out of Vigoureux C.H.S. (by Vigour B).  She has been with Lauren since early 2018.  She is a spicy, energetic jumper mare who Lauren took on as a bit of a project, as Kahleesi had a lot of tension and nerves both on the ground and under saddle.  The goal was to get her steady enough to compete in rated jumper shows.  With lots of patience and dressage work, progress has come slowly but surely.  She was always on the back burner, as eventing competitions were priority over jumpers, but while she was 6 months pregnant, Kahleesi and Lauren finally got into the A rated jumper ring!  Now that her foal is on the ground, the goal is to get her back in shape and start competing on a regular basis in the jumper ring.
River
River is a 2013 off the track Thoroughbred mare.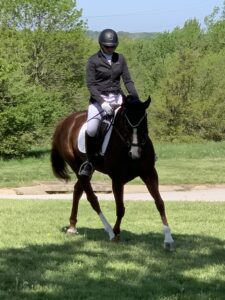 She came to LAR as a training horse and after a few months here, in April 2020, it was decided for her to become a personal horse of Lauren's. She is a high-strung, nervous, opinionated and responsive mare who had been passed around a lot before landing with Lauren. She is extremely athletic and beautiful mover but is highly reactive to various stimuli, making her training difficult at times.  In May 2020 while schooling cross country, Lauren was bucked off River on the back side of a jump and sustained a severe injury needing spinal surgery.  After months of recuperation, Lauren restarted River focusing on first ground work and then under saddle work, working slowly and methodically in dressage.  Perhaps one day they will event, but for now River is Lauren's dressage mount.  They are taking it slowly and looking for improvement each time out, currently scoring 60's in all Training tests at rated USDF shows while schooling First and Second level movements.  Once the relaxation occurs, Lauren feels River will thrive in the dressage ring.
Sinatra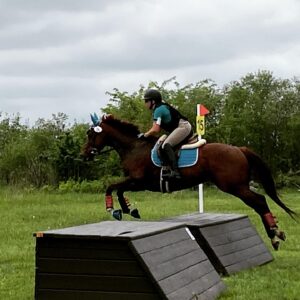 Sinatra is a 2015 off the track Thoroughbred gelding.  Lauren picked Sinatra up from the Dallas track in May 2020 and got one ride on him before breaking her back!  He was originally going to be a sales horse but when Lauren lost her heart horse, Romeo, in the fall of 2020 she decided to keep Sinatra as her next eventing partner.  They started working together in early 2021 to prepare for the competition season.  Sinatra has shown that he has a good brain and has been brave and steady on jump courses while still learning how to stay as relaxed in the sandbox for dressage.  He's been competing at Beginner Novice at both schooling and sanctioned horse trials.  Lauren is excited to continue his training and bring him up, as he shows both the brains and physical abilities to get to the upper levels.  Sinatra qualified for the American Eventing Championships his first year competing and completed the Beginner Novice Rider championship, ending on his dressage score.