All of our current sales horse are casually for sale at the time, as they are in need of more training/experience before being fully listed.  However, if you are really interested in one of our current horses, please talk to Lauren.  Please keep an eye on this page for updated information.
Pico de Gallo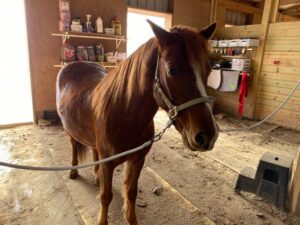 Pico is a four year old 12.0 hand Welsh pony.  He is easy to handle on the ground and friendly.  He is currently green broke and working on gaining miles and experience under saddle.
Seventy Seven Flat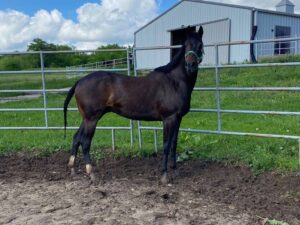 Crocket is a seven year old dark bay off-the-track Thoroughbred.  He stands about 16.1 hands but feels even taller under saddle.  He is in-your-pocket type, always wanting attention and scratches.  He has been lightly restarted and shows a willing attitude and is a quick learner.  He will be learning the basics of dressage and jumping, with the plan of training for low level eventing.  With his easy going nature and trainability, he will make a great match for an adult amateur or teenage rider.