Trainer/owner of LAREC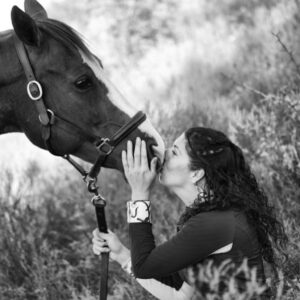 Lauren Schiller is the owner, trainer and instructor of Little Apple Riders Equestrian Center. She has been involved with horses her entire life, began showing at the age of five and training for others at the age of twelve. She grew up in Connecticut and was blessed to have many opportunities to learn and grow as an equestrian in numerous disciplines. She first started competing in Western Pleasure, English Pleasure and speed events and expanded into hunter/jumper, driving and played polo at the University of Connecticut. As a youth, due to resources, the majority of showing was at the local and regional level, with the exception of driving and showing Percherons, where as a senior in high school she took her leased Percheron Buster to the World Congress, competing and placing in hand, under saddle and single hitch.
Once moving to Kansas and after the completion of her Bachelor's in Animal Science, Lauren began focusing on eventing, something she didn't have the opportunity to get involved in previously. She has been competing in USEA competitions since 2014, receiving numerous top placings on multiple mounts, qualified for American Eventing Championship's three years in a row on two different mounts, placed at AEC's and has received year end awards and certificates with USEA, as well as numerous year end Championships with local eventing organizations. She has also piloted one of her mounts, KS Bluestem Cimarron B (Morgan), to multiple USEF Horse of the Year Titles and American Morgan Horse Association Year End Championships in eventing and hunter/jumper.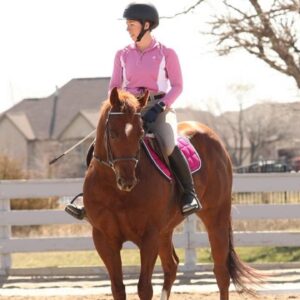 Lauren has wanted to expand into rated Dressage for a while and has finally began campaigning her Thoroughbred mare River and her mother's Morgan CB in United States Dressage Federation in 2021. She will be working towards her Bronze medal and moving her mounts up the levels.
The fall of 2020, Lauren finally checked off one of her personal goals and did her first A rated USEF/USHJA jumper show with her Dutch Warmblood mare, Kahleesi. She intends to continue to show on the rated circuit once her mare is back in shape after the weaning of her first foal, planning on starting back up at 1.10m.
Lauren sustained a very serious riding related injury in May 2020, where she had to have spinal surgery on three broken vertebrae. She had two rods and eight screws inserted in her spine and lost many months of teaching, riding and training. Thanks to the fabulous support of the LAR family and surrounding horse community, the barn was able to sustain until Lauren was back to normal capabilities in the beginning of 2021.
Working Student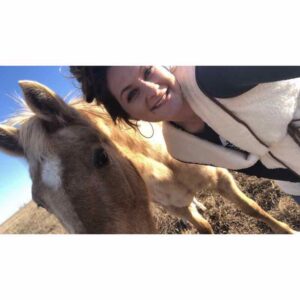 Katie Bohl is an assistant at Little Apple Riders. She is from Norton, Kansas and graduated with a Bachelor's Degree in Wildlife Biology from Kansas State University. She has a Quarter Horse mare named Princess and a young project Quarter Horse mare named Keeta. Katie is a self-trained equestrian, with years of experience in western but since starting as a working student at LAR, she has developed a love for dressage. She has participated in schooling events and has plans to continue to improve her dressage and jumping, to get into the big sandbox and eventing world soon!
Web master
Kaitlyn Cherry is Little Apple Rider's web master. She is a nontraditional student in many senses of the word. She recently graduated Kansas State University with her B.S. in Family Studies and Human Services. Kaitlyn has ridden casually since her childhood, but began taking lessons with Lauren in May of 2017. She started in Western Pleasure, but later transferred to English, due to having short legs. This is something she and Lauren joke about frequently, as the stirrups have to be adjusted to their shortest length each time she rides. Adding additional humor, Kaitlyn now rides Irish. Irish is one of the tallest horses in LAR's barn, so it's quite humorous seeing Kaitlyn mount. Though her lessons have been sporadic, switching disciplines did nothing but benefit Kaitlyn. While riding Western, her posture and leg positions just were never quite correct. However, the first time she rode English, the improvements were immediate. Kaitlyn wants to learn Dressage, and in the future whatever Lauren will teach her.
Kaitlyn has been blind since childhood, and many question how she rides while not being able to see. What they don't know is how many ways horses learn their riders. Irish has picked up on the fact that she sometimes needs a little extra time to give him feedback, and Kaitlyn is learning how to read his body language under the saddle. Kaitlyn feels that the English saddle gives her far more physical feedback than the Western ever did. She can't wait to see what she and Irish can accomplish together.